Notes on Saraband: the father departs
11 Aug 2005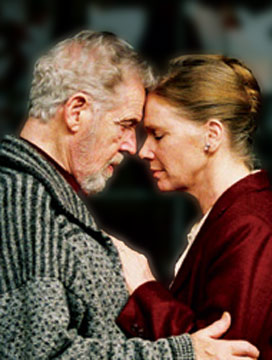 During one of the opening scenes of Ingmar Bergman's film Saraband, Liv Ullmann's Marianne is listening to Karin, granddaughter of her ex-husband Johan, turn from speaking bitterly about an encounter between her and her father, Henrik, to talking about the relationship – somewhat transcendent – that existed between her father and her late mother, Anna, and as she does so you can see Ullmann's face become translucent, and, while being attentive, her Marianne can be seen taking a measure of the way things were between Karin's father and mother, and when Karin tells of something that Anna did, we, in the audience, can see Marianne mentally tell herself, "That's something I wouldn't do in that situation. I'd never do that." This is why I refer to Bergman as the father of us all.
That is, if, in this figurative pantheon, you regard Welles as the uncle you always wished you had (because he could be so much fun to be with), and Spielberg as the boy who made good (and later deepened into an artist). I first came upon Bergman with the theatrical showing of one of his more unusual films, a wonderful filming of Mozart's The Magic Flute (1974), followed by what is perhaps his most emotionally fraught drama, Face to Face (1976, and probably the film for which Liv Ullmann should have gotten an Oscar). How was Bergman able to get these types of performances out of these actors in these films? I then followed up by seeing showings of all of his subsequent new theatrical releases – The Serpent's Egg (1977), where he got a chance to work with a large budget and full-scale period settings (even though the male lead was fatally miscast); Autumn Sonata (1978), where he got a chance to keep a promise to work finally with the actress Ingrid Bergman; the odd murder mystery From the Life of the Marionettes (1980, with that white-on-white-on-white dream sequence smack dab in the middle of the, otherwise colour, film); the beneficent Fanny and Alexander (1983), a real word-of-mouth hit among my friends and associates at the time; and the made-for-television three actor piece "After the Rehearsal" (1984), with its particularly brave performance by Ingrid Thulen.
The vicarious experience of what other people ... are going through is what pulls us into, and through, a motion picture...
In all of these, Bergman tried to explore interior landscapes in a way unlike almost anyone else working today. (Kieslowski is the one filmmaker who came closest with his films.) This goes back to that fundamental notion of Why We Look at Movies – still that great, secret, dirty passion of the 20th century, the one that we're not supposed to take seriously but do, the one we have trouble equivocating with other passions such as for books, music, theatre, and the one our parents have probably told us at one time or another that we should not spend so much time with. Is it entertainment, or art? Do we want diversion, or, if we do, why look at films involving "interior landscapes"? Is it an either/or question? The writer and critic André Bazin first argued, in the 1940s, that films could be legitimately used to help man define his place in the world. My friend Richard Dutcher, who's made a couple of films himself, has spoken of how, in watching a film, you "become a witness to other people's experiences", and that, "as an artist you have a tremendous responsibility because you create this world that other people are going to pass through. You have to know what the purpose of this fictional world is and whether it's worth taking people through. Are they going to be better when they come out than they were when they went in?..." The vicarious experience of what other people, other characters are going through is what pulls us into, and through, a motion picture – that situation where we can learn new, and possibly better, truths through the actions and experiences of others also puts us in that situation where we want to see how it would all come out for everyone at the end. (The vicarious element in film is also what has turned it into such a playland – further transmogrified into the video game experience.)
A few years after Face to Face, Ullmann published a rather graceful memoir, Changing, in which she described how life with Bergman sometimes involved disagreements in which the great director would kick his way through doors. (Linn Ullmann, the actress' daughter b Bergman, appeared in The Magic Flute, and has since gone on to become an author in her own right.) Karin's first meeting with Marianne in Saraband comes right after she has had a particularly ugly scene with her father, during which he physically attacked her (causing Karin to flee). But still Karin resists wanting to treat Henrik in absolutes – she wants to include the fact that, despite everything, she feels that there is still something good, something "nice", within Henrik, which has been distorted by what he has been through and what he has experienced in life. It's this expression of complexity and specificity that makes Saraband, despite its reliance on exposition and relatively limited physical action, such an emotionally alive film.
If people become wistful – perhaps too wistful – over how the 1960s and 70s were such a great time for movies, that's because they are partially right – there really were giants walking the earth, then. At the time that I saw The Magic Flute, you could see new movies by Bergman, Fellini, Truffaut, Buñuel, Eric Rohmer, Claude Chabrol, Louis Malle, Visconti, De Sica, Antonioni, Pasolini, Bertolucci, Lina Wertmüller, Kurosawa, Fassbinder, Wim Wenders, Werner Herzog, Carlos Saura, Nicolas Roeg, Joseph Losey, John Huston, and Alfred Hitchcock. In the U.S., there was Robert Altman, Paul Mazursky, John Cassavetes, Milos Forman, Coppola, Scorsese, De Palma, Hal Ashby, Mike Nichols, Peckinpah, Don Siegal, John Schlesinger, Blake Edwards, Bob Fosse, Martin Ritt, Spielberg and Lucas, Mel Brooks and Woody Allen, and newer films by female directors such as Claudia Weill and Joan Micklin Silver. And films such as Duel, That Certain Summer, Love Among the Ruins, and Autobiography of Miss Jane Pittman (not to mention the phenomenal Roots) were turning up on television, along with PBS films such as Between Time and Timbuktu, written by Kurt Vonnegut. Orson Welles had just brought out F for Fake, and Charles Chaplin was about to re-release A Woman of Paris. (And, yes, there were other films such as Poseidon Adventure, Smokey and the Bandit, those films with Linda Lovelace and Georgina Spelvin, and, of course, The Giant Spider Invasion, although that came out in 1976, when it opened at a drive-in at the same time I got my driver's license.) I would also be remiss if I did not acknowledge how this list is primarily white: Gordon Parks and Mario Van Peebles were just starting to get some momentum going in films when they were essentially swept out with the "blaxpoitation" film wave. It would be another 10 years before Spike Lee and John Singleton would put some films in theaters, during which I argued (with friends who openly disliked Lee's films, and I never got a good idea why, either) that the cinema is big enough, inclusive enough, to have room for lots of different voices (it still does).
Saraband unfolds as a series of two-fers, scenes involving two of the characters at a time, book-ended by a prologue and epilogue. Marianne pays a visit to her ex-husband Johan (played by the great Erland Josephson), who has retired to a country house that he received as part of an inheritance. Marianne doesn't know what exactly prompted her to go and pay the visit, and Johan doesn't seem to object, but her professional detachment as an attorney turns out to come in handy when she encounters Karin (Julia Dufvenius), and then Karin's father Henrik (Börje Ahlstedt, whose eyes flash a deep blue during moments of emotion), Johan's son by a previous marriage. They are living in a smaller house on Johan's property, where Henrik is ostensibly tutoring Karin on the cello. But make no mistake about it – Johan and Henrik both openly despise each other, even when Henrik has to go begging for money from Johan, who crisply toys and torments him for the asking ("Are you going to hit me now?"). Henrik, in turn, behaves possessively towards Karin, so that Karin is building up as much resentment towards Henrik as Henrik already has with Johan.
The story is about two father-child relationships. Karin cannot entirely bring herself to walk out on Henrik, even when she gets an offer by which she could make a fresh start as a musician. She knows how devastated Henrik would be, and worries over the possibility (and, unspoken, her culpability) that Henrik could be mortally hurt by her sudden departure. Marianne, in turn, will not side with Henrik over Johan's bad behavior towards him, since she knows that Johan, too, is not entirely a bad person.
But Saraband is also a story about Anna, Henrik's recently departed wife and Karin's mother. (Anna is represented in the film through a photograph, which bears a resemblance to Bergman's own recently deceased wife.) It is Anna's love and goodness that held together her marriage to Henrik, and which is sorely missed by Karin. Anna even foresaw how Henrik would transfer his attachment to Karin, and tried to warn him against it before her death, a discovery that finally propels Karin to make some sort of a move. And it is Anna as a person who prompts Johan to try and help Karin – he sees aspects of the departed Anna in Karin, and uses it as a pretext to act on Karin's behalf despite his feelings towards Henrik. Anna is the presence, the paragon that hangs over all of the action.
And it is at this point that I prompt myself not to get pretentious over Bergman, since I can hear John Gielgud in Plenty thunderously correcting someone who has been speaking presumptuously about the director ("And, by the way, Ingmar Bergman is not a bloody Norwegian, he is a bloody Swede!"). Bergman leaves the ending of Saraband open to interpretation – Marianne tells us how she drifted back into her own life after seeing Johan again, and about her own relationship to one of her daughters (she and Johan had two, seen ever so briefly at the beginning of Scenes from a Marriage – in Saraband, Johan openly says that he knows nothing about what's become of them). Marianne expresses a hope of a connection – something which goes back to the idea of what we go to the movies for in the first place. This may be Bergman's last film, but, like with his others, it will be one that is still alive, and hopefully still inspiring, 50 years from now.
Gregory Avery
Medford, Oregon
◊