Dialogue with Susan Greene on "Break the Silence"
21 Feb 2007
"Break the Silence" is an on-going mural project between Palestinian and American artists. This interview/dialogue took place at Michelle O'Connell gallery in May of 2006
Molly Hankwitz: "Break the Silence" has a brilliant, long history as an art project. Can you give us a synopsis?
Susan Greene: "Break the Silence" mural project began in 1989, when four Jewish-American artists decided to go and find out more about the situation in the Palestine – a kind of person to person diplomacy. We wanted to listen to the Palestinian story because we weren't getting it here in the US. We stayed for three months, living in a refugee camp in Ramallah. We had a very informative and profound experience because we heard and experienced what life was like on the ground for the Palestinians living under Israeli military occupation. We heard a side of the story that is hard to come by in the US. Using collaborative community murals – the culture of mural making – as a way to get at stories and excavate memory, if you will, we could explore and unearth obliterated memory which had been so buried in the past; both in their lives and to some extent ours. It isn't controversial what happened in the Palestine. In other words there is not a doubt that close to 1,000,000 Palestinians were exiled and/or expelled from their homes in the formation of the state of Israel, but this fact is just never talked about by anyone involved in that process from the Israeli side. It's been made invisible.
It's almost sixty years since the formation of the state of Israel in 1948. Some five hundred Palestinian towns and villages were destroyed then. The Palestinians call that "the catastrophe" and the Israelis call it "the war of independence."
MH: The story never gotten here ...?
SG: Many people here, in the States, don't really get what's going on. The dominant story is that "Israel was founded because the Jews needed a safe place to live – that there were no people there. It was a land without people for people without land and it was the world coming to the aid of the Jewish victims of the holocaust." That's the line. That's what we were told when I was growing up and its still largely the media myth. But, there are more dissenting voices than there were, say, twenty years ago.
MH: What is the real story? What is the Palestinian story?
SG: To start with, it's almost sixty years since the formation of the state of Israel in 1948. Some five hundred Palestinian towns and villages were destroyed then. The Palestinians call that "the catastrophe" and the Israelis call it "the war of independence." So, it's like two separate stories and two separate representations. Sometimes people talk about it as if both sides were equal, and they kind of normalize it, but its two different histories, two different views, except in one case, the Palestinian people have lost everything and they still are losing everything, house by house. They are losing their lives, their children, their water, their farm land, their livelihoods.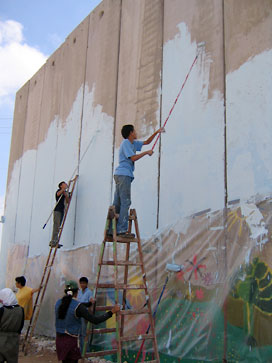 MH: Your visual presentation at Other Cinema put a human face on this awful struggle and gave us a glimpse of the mural art. There was a stunning array of media about places, people and your intimacy with them. Slides, video, photographs. Is there more where this came from?
SG: There are many groups reporting on the Palestinian struggle and making media, including Israeli, American and Palestinian artists. B'etselem, Electronic Intifada, Middle East Childrens's Alliance, International Solidarity Movement and Palestine Monitor and Palestinian Center for Human rights are some of the more active human rights and political groups. There are many artists and filmmakers working ... and their visions are getting out in venues such as the Arab Film Festival. Even a Google search will reveal a lot of great and informative work.
MH: Break the Silence is bent on creating community; you help families to make Israel's apartheid wall, and all it symbolizes or does not, come alive as something they can somehow reclaim and live with. Can you comment?
SG: I don't frame the murals in terms of "reclaiming" and "living with." I frame this work in terms of resistance to the wall and resilience. The wall is devastating and extremely traumatic because it cuts the people off from their land and from any means of a normal life. Even between cities in the West Bank, people are forced to deal with checkpoints. This wall and the whole associated structure which goes along with it: turnstiles, places where you have to show your papers – movement is restricted to such a degree that you can't see your friends, you can't see your family, you can't plan on anything, if you are a student you can't go home. You can't get to work. Normal life is impossible. So, many people are leaving. For example, Qalquilia is a city from which thousands of people have left because life has been made intolerable. This city, due to the wall, has one entrance, in and out, which the Israelis control capriciously. There are no times which are set so you can't count on it. Farmers who have been working the land for generations can't get to their land. If you are sick and need to get to the hospital you simply cannot. So, the effect of the wall is sociocide – a destruction of a society – because normal life is made impossible. And people are forced to leave in order to survive. That's what the wall does. And there are so called mini walls being built as well. They cut through the middle of campuses, for example at the University of Jerusalem or a basketball field in East Jerusalem, to name a few. There's a very humiliating aspect to it. And as I keep saying, normal everyday life, which we take for granted, is completely disrupted.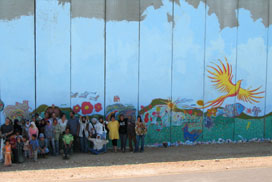 MH: Can you talk more about the collaboration you create – the importance of the collaboration to the people there?
SG: The first space we worked with was the Centre for Popular Arts in Ramallah. That was where we painted the first big mural there in 1989. This was during the first intifada. The way that we did this listening, and this gathering of stories, etc. was through mural painting. The idea was always from the start to use culture as a way to resist, to tell the story, and to build resilience and bring the stories back as a "window" to people here...to bring the story back here and show all the work here. .
MH: What has been the reception among American audiences to what you bring back? You've experienced censorship here.
SG: People are usually genuinely interested. Some are not open to it: mainstream people, many Jewish people, progressive people who are progressive on every issue except being critical of Israel. People are afraid of appearing anti-semitic. The use of culture and story has been a useful way to reach people who would otherwise be closed to this issue. It helps to get people talking. The slide shows I do sometimes have this affect. The photographs are powerful and may change their mind, or their awareness. People can see something they could not see before. People are educated and their energies can go towards real efforts such as a divestment movement, like the one that people worked on to get out of South Africa. At the end of the day the goal is to motivate people to become active and also to go there and see for themselves. Many more people are doing work in Palestine than they have before. I think the second Intifada galvanized people even more. We painted a mural here in SF on 21st street called "Our Roots Are Still Alive, Palestine Will Be Free," and I made a videotape documentary about Break the Silence. The mural has since been covered up because it was being defaced so much and so violently, especially after the second Intifada started. The Palestinian man who owned the store was being threatened – so we covered it until such time that he and the mural could be protected – or until the conditions that produce these attacks have transformed. But I want to underscore that we are and have always been autonomous and collaborate with a wide range of organizations and people both in the States and overseas. We have developed a tremendous, substantial network over time. The strength of our projects is in the mural painting process and in the development of relationships: planning the murals, getting the stories, talking with people, working together.
MH: And what about audiences in the Palestine? What about galleries and theatre? Has the reception been favorable and supportive?
SG: The Palestinians are very hospitable, warm, generous, compassionate, with an incredible humor, but they are also devastated. They are suffering from the traumas of generations of occupation. They want to share their stories and make connections and they want people to know what's affecting them. Their isolation is awful, so contact with delegations of outside people, which was much more rare when BTS began, is vitally important. Through my research it is clear that solidarity is a powerful and meaningful force in Palestine. There are many groups and delegations who visit the Palestine regularly to offer an alternative to the mainstream press upon their return.
MH: What new projects are planned from your end? Is there a Rachel Corrie documentary in the works somewhere?
SG: Sara Kershnar from Break the Silence is going to lead a media activist group that will create digital stories with Palestinians about their lives with the goal of bringing those stories here to raise awareness, educate and build solidarity and activism. The stories will also become part of curriculums being developed for middle and high schools to raise awareness. This is a collaborative project with the Palestine Education Project – located on the East Coast, USA. We will also work within the Jewish community and we want to touch them in particular. Alan Greig of BTS just completed a wonderful documentary about the wall and resistance to it. This tape entitled: Confronting the Wall includes a section on the mural BTS painted with the Aamer family in the West Bank of Palestine whose home is surrounded by the apartheid wall on all four sides. I am directing a documentary about Rachel Corrie but it's in such early pre production phases that there isn't much to say now.
◊
---
Image notes: (second image) Mural on the Apartheid Wall facing the home of the Aamer family, who are surrounded by the wall on four sides.
Susan Greene is one of the Bay Area's hardest working political artists and muralists. She is also a clinical psychologist and teaches at the San Francisco Art Institute, New College, and Goddard College. Her videos include Break the Silence Mural Project, 1993, and Turn Around, 1995. Molly Hankwitz is a media artist, designer, mother and peacenik living in San Francisco. She teaches at the Art Institute of California, SF and is writing her dissertation on mobile media.