BohemiA2n Like You: The 46th Annual Ann Arbor Film Festival in Michigan
24 Sep 2008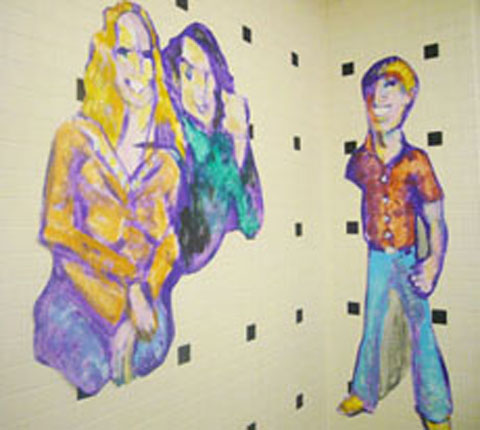 The Ann Arbor Film Festival (AAFF) has been an important part of Michigan culture ever since its founding by University of Michigan Art professor George Manupelli and his circle of young creatives in 1962. That decade in Ann Arbor saw free rock concerts by the MC5, a performance of the Living Theater's "Dionysius in '69", and a showing of Jack Smith's "Flaming Creatures" all busted by police. Like the music-based Once Festival, also expanding outward University arts faculty, the Festival established itself as an important expression of the international cinematic underground, presented in the midwestern university town of Ann Arbor. Kenneth Anger showed "Scorpio Rising" at the Festival in 1964, and Andy Warhol brought the Velvet Underground and Nico to perform as his Exploding Plastic Inevitable before, and as part of, the flickering screen. A few years later, the Festival was an important part of the cinematic education of documentarians Ken Burns, Ric Burns, Greta Schiller, and still later of "Dark Knight" and "Spiderman" screenwriter David Goyer. Whenever I get to a Festival, I run into greybeards like Ken Blanken, Orin Buck, Gerry Fialka, Dan Gunning, Dave Kennard, Martin Shackelford, and others who seem to have attended every year since time immemorial.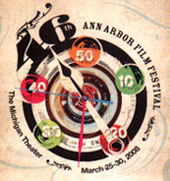 This article will describe some highlights of the 2008 Ann Arbor Film Festival, that was held March 25 thru 30 at the Michigan Theater, and the Festival's political struggle of the past couple of years. And then, my own history-drenched involvement in this year's Festival.

I. Movies
This year viewers saw the Festival's usual rich variety, heavy on the odd and visually abstract, as well as some slice-of-life documentaries and other films that don't get shown in commercial venues.
"One Bad Cat: The Reverend Albert Wagner Story" is an engagine 80 minute documentary by Thomas Miller of a Cleveland, Ohio. Wagner was an artist who turned from turmoil and adultery to a late-life career producing numerous religiously-inspired unschooled paintings, quite happy to spend his time doing so and also assuming the role as a wisdom-speaking local patriarch. One afternoon at the Festival featured the deadpan documentaries of Bill Brown, often insightful...yet often maddeningly slacker-paced and shoegazing. Brown has looked into serious issues of migration and community activism, and the Festival presented "The Other Side", "Buffalo Common" and "Confederation Park". This last one may be the most successful, as Brown resided in Canada for a while, rather than be just passed through as interested traveler.
Daniel Robin used old 8mm home movies of his parents, and footage of the kidnapping of Israeli athletes at the 1972 Munich Olympics, to examine issues of marriage and memory in the 13-minute "My Olympic Summer". Though not a part of the screening called "Conspiracy Countdown", it could have been, as that grand presentation of films nicely grouped disparate visions and approaches in its concept. "i" by Luke Losey of London, grandson of the expatriate American director Joseph Losey, was a two-minute film with a single shot: an eyeball, with light reflected upon it and industrial sounds (a train entering a station?) behind it. Its jovial producer Maverick Litchfield-Kelly, who had journeyed from the UK for his Neath Films Ltd. project's two minutes of midwestern fame, defined "i" as a "moment of pure cinema" in the filmmakers' panel discussion. James T. Hong photographed an unwilling traveling salesman from the US trying to clinch that China deal over his cell phone, scowling and corpulent and finally hostile to the surveillance of the filmmaker. Adam Keker presented a purported dossier that had been prepared in advance by a government agency to explain a US presidential assassination, and Jim Finn assembled North Korean propaganda, Kim Jong-Il's words, contemporary artmaking and staged drama into an hour that somehow worked. Lynn Hershman Lesson's "Strange Culture" (reviewed in Other Cinema), on the cruel and overzealous arrest of bio-artist Steve Kurtz was shown, and in the mezzanine outside the screening Rich Pell installed photos of the physical artifacts of the arrest.
The Festival featured lots of animation, including a selection by juror Bill Plympton, the abstract films of Joost Rekveld and the animation of Jim Trainor. There was a queer Out Night, and films that "transport the viewer for wormholes of the space/time continuum". Guy Maddin's melodramatic "Brand Upon the Brain" was unspooled, his curious sensibility sculpted by the winds of western Canada. The musical ensemble bLuE daHLia played live along with Buster Keaton's 1926 "Seven Chances", a somewhat misogynist romp which evidently inspired the Three Stooges' "Brideless Groom" a quarter-century later.
A panel consisting of Film Threat enthusiast Chris Gore, Emily Berger of the Electronic Frontier Foundation and local lawyer Larry Jordan spoke on issues of copyright and fair use. Much of the audience's concern was for the use of film classics and major corporate media, whereas most filmmakers interested in "found footage" seem to make use of archival, out-of-the-way, lowbrow and fugitive footage that's already at the margins of cinema. They repurpose the films that nobody wants, not the ones that grab the majority. This crowded presentation took place a half-block from the Michigan Theater in the UM College of Art's WORKS Gallery.
Gerry Fialka, involved in the Festival since his college days in the early 1970s, surveyed bands and musicians integral to its history, including the Velvet Underground, Elvin Jones and Richard Hell, in a lecture "Kick Out the Jams". The 1970s hippie country band Commander Cody and His Lost Planet Airmen included Festival Award Donors Bill Kirchen on guitar and George Frayne (aka Commander Cody) on piano. The band's concert at UM's Hill Auditorium in April, 1971, at which they were trying to record tracks to include on their debut "Lost in the Ozone" album, was halted when a group of women objected to the movie of a nude woman trying to seduce a trucker, filmed by George Manupelli, playing behind them. A $1000 prize is given to an animated film each year in the memory of Chris Frayne, cover artist for many of the band's albums. Gerry Fialka, himself curator of the PXL THIS festivals of Pixelvision Cinema, also lectured on notable past AAFF innovators, as he did at the 2007 Festival.
Among the Festival's prizes are ones given by filmmakers Ken Burns ($3000), by Gus Van Sant, Lawrence Kasdan, and Michael Moore (each $1000); plus prizes in honor of deceased local artist Chris Frayne, by coffeehouse owner Dominick DeVarti, and by techno music label Ghostly International for sound design. Corporate sponsors include Absolut Vodka, Borders bookstores (which began in Ann Arbor), Detroit's College for Creative Studies and VisitDetroit.com. Other prizes are given by area banks, financial groups, Zingerman's deli and Weber's Inn hotel at the western edge of town.
The Festival nourishes sensibilities, who in turn nourish others. Sound engineer Dan Gunning, who with film editor Vicki Engel is a Festival Award Donor, attends the Festival every year to bring back a "Best of" reel to show at Foothill Junior College in California to benefit KFJC-FM. Dan was integral to the UM station WCBN-FM when living in Ann Arbor in the 1970s and 1980s, and is credited as the radio mentor of the area's respected old time jazz archivist on WEMU-FM named Arwulf Arwulf.

II. Malevolence out of Midland
The Festival showed "Larry Flynt: the Right to be Left Alone". This is the story of Hustler Magazine and its Editor-Publisher and his notable trials. In a 1988 case, the Rev. Jerry Falwell sued the magazine for a fake interview in which the minister confessed to losing his virginity to his mother in an outhouse. Falwell was awarded damages, but Flynt took the case all the way to the US Supreme Court for a reversal, winning even Antonin Scalia's vote. Flynt attended the Festival viewing, and a local bikers' magazine noted how the audience was full of women who cheered Mr. Flynt. You don't have to like Hustler's photographic gynecology, racism and rude humor (nor Mike Diana's comics or Two Live Crew's stage show) to come to their defense when free speech is endangered. And the Ann Arbor Film Festival Crowd were high on defending free speech for a specific reason.
About 120 miles from Ann Arbor is Midland, Michigan, the corporate headquarters of Dow Chemical Company, which is a major philanthropic donor to its host city. They fund the Midland Center for the Arts, own the new professional baseball stadium, and support my own nearby Saginaw Valley State University. Midland is also the home of the Mackinac Institute, a think tank that publishes and promotes "conservative" solutions to the various issues concerning Michigan.
A 2006 paper by Michael D. LaFaive called "Entertaining Art: To Tax or Not to Tax--That is the Question" argued against a 5% tax (proposed by a Republican State Senator) on entertainment events and admission fees to be used to fund the arts. The Ann Arbor Film Festival was cited by LaFaive as a special example of waste, for it had shown prurient movies of men bumping their chests together, an evening of the "Sex Workers Art Show", and the animated cartoon "Boobie Girl".
According to the March, 2007 Ann Arbor Observer, LaFaive's essay struck Republican Shelley Taub, a state senator from a district that includes Bloomfield Hills, the posh and tony country suburb north of Detroit, traditionally home for auto industry executives. Her amendment to the bill before the Michigan House appropriations subcommittee to exclude the Festival from state funding for two years. As a result, the Michigan Council for Arts and Civic Affairs (MCACA) stopped payment on its annual grant to the festival, pending an investigation whether the Festival had violated its funding guidelines. These guidelines, instituted during the Culture Wars of the1990s, prohibit "displays of human waste on religious symbols, displays of sex acts, and depictions of flag desecration". Though Taub's amendment never came to a vote, the Festival chose not to pursue MCACA's funds. Festival Director Christen McArdle said to accept the money "would be compromising our artistic integrity". The American Civil Liberties Union filed a lawsuit in federal district court in Detroit, against the State of Michigan for violating the Festival's first amendment rights. In December the state legislature decided the guidelines were unconstitutional, and adopted the National Endowment of the Arts' guidelines. The Festival publicized this as a great victory for free speech.
Meanwhile, Ardle worked hard to make up for the lost fund with creative fundraising "Acts of Audacity". Glam Rock Karaoke on October 17, 2007 raised $10,000. Giant Aimal Badminton pitted two Festival staffers against two Detroit Roller Derby Women, all in funny animal suits at Alpha Delta Phi frathouse, on December 7, and raised $35,000. In December, John Sayles brought "Honeydripper", his movie about early juke-joint rock n' roll, to Ann Arbor for a sold-out benefit showing.
In May 2008 it was announced that McArdle would be taking a position as Creative Director of the Festival, and that Donald Harrison, previously Director of Community and Development, would succeed her as Executive Director. This marks an end of her short, tumultuous and feisty, directorship. A filmmaker and creative artist, personally stylish and right out of central casting (Starring Zoey Deschanel as Film Festival Director), Ardle was an effective spokesperson during their righteous campaign against censorship. But one wonders if the Festival Board wanted a more traditional Director in place, for more placid fiscal operations.
As a Michigan artist, I would like to see activism extend even further than the Festival's own office and events. Artists should organize, using the Web, benefit parties and their own creativity and contacts, to conscientiously support whomever runs against Shelley Taub, perhaps Democrat Andy Levin. We must make it known that, with Taub as their representative, Bloomfield Hills gains a reputation as provincial and anti-art. It is unlikely that its residents want that, considering many support the Detroit Institute of Arts, Contemporary Art Institute of Detroit, and the Cranbrook Academy of Art. Donors to the arts do not like to be considered squares and unhip.
Nevertheless, this causes one to wonder about the rest of the state of Michigan's appreication of its longest-running film festival. There's a report on Michigan film festivals in the Spring 2008 issue of X-OLOGY magazine, "An Automation Alley Publication" that's boosterish on technology industries in southeastern Michigan (read: in the white donut of suburbs around black Detroit). Lifestyle writer Khristi Zimmeth gave no mention at all of the 46 years of the AAFF, while citing Flint's ten-year film festival, and other newer ones in Saugatuck, Grand Rapids and Traverse City (Michael Moore's brainchild). I personally regret she neglected to write of my own Michigan town's Hell's Half Mile Festival, preparing for its third year of independent films and new rock bands in Bay City this October. Hell's Half Mile has been the promising vision of local haberdasher Alan LaFave, no relation to the Mackinac Institute's troublemaker Michael LaFaive.

III. Realm of the Mosheresque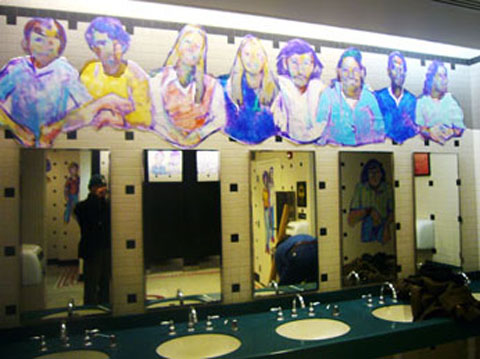 Film was key to youth growing up in the 1960s and early 1970s. Movies could be seen on campus any night of the week, so were a big part of the cultural life of teenage faculty brats. Films made for a cheap date, provoking conversation (often about sexy images onscreen) for a nerdy boy with smart and vivacious girls. We were drawn to flickering images that represented the world's talons and taboos, illuminating the darkness, sometimes adding to its ambiguity and mystery. The Ann Arbor Film Festival, and its 8 mm Festival too, were important to our education and development. The movies we saw there were humorous at best, worthy of discussion at worst, time well spent in edification, art, entertainment and laffs.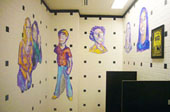 During Ann Arbor Film Festivals of the '70s, visual imagery was omnipresent, on flyers, buttons, publications, displays and wall installations. The Kennedy Assasination was one year's visual theme, and the souvenir Festival button showed the astonished mug, under his big white stetson, of the Texas Ranger holding Lee Harvey Oswald at the moment Jack Ruby shot the presumed assailant. In 1975 UM engineering student Jim Rees and I produced and hawked unofficial spray-painted t-shirts (an image of Iggy Pop with his first name actually spelling "1975") with no official permission from the Festival but amused tolerance. One was bought by the performing artist and returning homegirl hero Pat Oleszko, the hippie strippie friend of George Manupelli who had just given an ornate performance accompanied by her ballooning, billowing and bombastic costumery, at the Festival party in (cool persons' hangout) Mark's Coffeehouse on William Street. During its Film Festivals, Ann Arbor was a party--a performance artwork and "happening" or "environment"--and we wanted to be a part.
At the 2008 AAFF, there was one official art installation, an ornate and spangly, rotating film reel created by Esther Kirschenbaum for the Michigan Theater lobby. But I remember witty washroom installations during Ann Arbor Film Festivals I attended when I was in high school and college, so I requested those spaces (and their captive audiences). I put two art installations in the Michigan Theater Men's Room during the 2008 Ann Arbor Film Festival. The one in the Women's room was descriptively called "One Hundred Eyes", for the walls and ceiling of the rest room were covered with one hundred paper circles of varying size from one to nine inches, each containing one photographed female eye. Any male eyes would evoke a creepy aura of voyeurs there, or intrusive surveillance. These staring, unblinking eyes were a manifestation of the female gaze (where women check each other out, as sisters, rivals or objects of desire), of fears of voyeurism in the stillness, and served to evoke the memorable glance of the film actress or camera itself. Before this installation, the last time this artist had been in a Women's washroom was as a four-year-old, with his mother at Goodyear's Department Store, on Ann Arbor's Main Street. "One Hundred Eyes" looked good, and turned out successfully, but could easily been conceived and execute by another artist. The men's room installation "Beyond Ken Burns" reflected my own time and place in Ann Arbor, and took more time to plan, execute (to paint and cut) and to install. Aand was closer to my heart.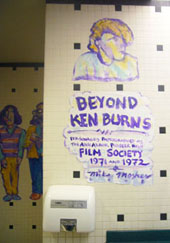 Ken Burns, like his younger brother Ric, was an active member of the Ann Arbor Pioneer High School Film Society until his 1971 graduation. In this installation, representations of various other members of the club in 1971 and 1972 were painted in Politec acrylic mural paints on white plastic Rufco-Wrap homebuilder's sheeting, then cut out and affixed with masking tape rolls to the walls of the washroom for the duration of the Festival.

The imagery in "Beyond Ken Burns" is based on photos of the Film Society in our school yearbooks, the 1971 and 1972 Omega. These were the years, that Ken and his brother Ric graduated. Neither of the two noted documentarians appeared among the creative, young men and women (for the club was apparently not a sexist "boys' room") in the club yearbook photos. In this environmental artwork, I returned to the yearbook-based imagery that began my artistic career three decades ago. Unlike earlier cubist pastels, watercolors and computer graphics on the subject of school, here I created monumental figures and portrait busts that gave the university-town teenagers the gravity of classical frescoes and statues. Some are incomplete, missing arms or limbs, as if not all molecules came through the time machine properly. Not only is the project populated with the club stalwarts, but it includes the kids (the James Deans, Johnny Depps and Chris Tuckers?) who skipped all their classes the day the yearbook photographer came, to stand in the back of all school club pictures.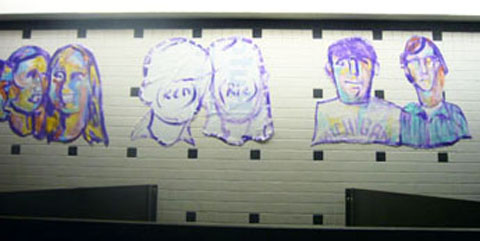 Though the washroom installations "Beyond Ken Burns" and "100 Eyes" were approved by Christen McArdle in late 2007, after numerous communications, there was absolutely no mention of the projects nor the artist in the Festival program. Thinking perhaps the program had been printed or designed before the art project was approved, information was also provided for the Festival website, but never was uploaded there either. Some of the AAFF-attending graybeards thought I should grouse about that to the Festival Director and Board. Instead it was amusing to have flown under the radar, to have done environmental art, in a very public place, that was invisible in plain sight. In a way, it felt like the omission was more in keeping with the mid-1970s spirit, where there was such a plenitude and plethora of art, collage, ephemera and doodads in the Old Architectural Auditorium lobby, hallway showcases, and surrounding public spaces. What I hope it doesn't mean is that to today's audiences or organizers, odd imagery is only visible on the screen, and invisible in the Festival's "daily life".
The Michigan Theater Director was amused by the men's room figures, and suggested I leave them up for the rest of the month. But I didn't. The long-time AAFF supporter Dan Gunning purchased a two-figure component of "Beyond Ken Burns" for his San Francisco home with Vicki Engel. To add another layer of AAFF history, we secured the deal and transfer of the artwork in the art-filled home of former AAFF Director (for about for fifteen years) Vicki Honeyman. This summer, I failed to attend my thirty-fifth high school reunion in Ann Arbor. But I affirmed my deep and vital cultural roots there with my Ann Arbor Film Festival art installations.
◊
---