Welcome to our website for our ongoing series of experimental cinema in San Francisco. We show films every Saturday at ATA Gallery, 992 Valencia (@ 21st). Showtime 8:30pm, admission* $6.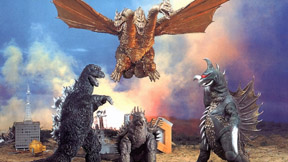 SAT. 11/1: GODZILLA ON MONSTER ISLAND + CHRISTIAN DIVINE +
For this kaiju-crazed Halloween weekend in Godzilla's 60th anniversary year, we're unspooling a 16mm print of the most monster-dense of all the Godzilla titles! AND we're running the optical soundtrack through a sub-woofer for maximum mayhem!! This celluloid spectacular is considered the second-to-weirdest of the Goji filmography, with a kid's theme park as the main location, ludicrous human anti-heroes, and the only instance of the lovable behemoth talking! Introducing this sublimely ridiculous rarity is the one-and-only Christian Divine, our resident—yet world famous—expert on all films cult. Christian drops knowledge as heavy as Godzilla himself in an amazing amalgam of anecdote and analysis, following spooky cameos from Bigfoot and The Addams Family, and campy kaiju commercials. Free trick-or-treats and hot sake for Kevin Garcia and his obsessively collected action-figures. *8PM.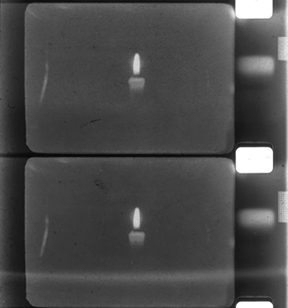 OUT NOW: FALL 2014 ISSUE OF OtherZine
Welcome to Issue 27: FRAME LINES! Our wonderful contributors have again formed a remarkably cohesive issue that sits at the intersection of radically different trajectories, histories, and purposes. The frame line, an often-unused portion of motion picture film separating two adjacent images, emerged as a convergent metaphor, characterizing the purpose, stakes, or even the subject of each article. We hope that Issue 27 will open a space to renegotiate frame lines, be they historical, political, dialectical, or literal! We specifically encourage use of our Comments section to continue navigating and exploding the diverse frameworks and their interstices.

Beginning our Frame Lines collection, Clint Enns poses a series of frank and worthy questions for every film and video programmer, while Michael Betancourt offers a refreshing reconsideration of medium specificity in critical contexts. Carla Leshne follows this up with a case study in the history of the fine line between film and labor by detailing the nearly forgotten histories of Lester Balog's films and screenings with the Film and Photo League.

Interviewing, we have Tara Nelson querying the themes and times of NorCal born and educated animator, Victor Faccinto, while Martin Rumsby discursively inquires experimental filmmakers across the net on East Coast/West Coast aesthetics, phantoms, and much more.

Veteran contributors David Cox and Mike Mosher offer reverent analyses of key media-makers through different media: respectively, an in-depth look at Harun Farocki's (who sadly passed this year) theories and praxis through his film, Images of the World: Inscriptions of War, and the recently published George Kuchar: Interviews and Conversations.

Finally, OtherZine is proud to host three Artist Projects, each made within/about the Bay Area! Nik Nerburn hacks away at the colonial history of Paul Bunyan in his 'zine, In the Shadow of Paul Bunyan. Collin McKelvey offers a full-length audio recording of his live sound performance at the final iteration of John Davis'/Kala Art Institute's Gravity Spells, a live a/v performance series, made in collaboration with Oakland-based filmmaker, Tooth. Last, but far from least, Dana Smith truly brings us home with her Mission Miracle Mile Trilogy, an experimental photo-book documenting the Mission District in all its splendor and glory!


Join Other Cinema on Facebook!