Sinne Spegel, 2014, An Interview with Anne McGuire/Karla Milosevich 
Sinne Spegel will be projected at Other Cinema on Saturday, March 21st, 2015!
For over two decades, I have been drawn to women mediamakers who explore identity through characters in pop culture and through emphasis upon autobiographical detail. (I'm thinking of Mary Kelly, Ida Appalbroog, and Dara Birnbaum for a quick list.) Sinne Spegel  (meaning "mind mirror" in Swedish) crosses between the lives of two San Francisco-based artists and the two lead characters in Bergman's 1963 film, Persona. The collaboration investigates Anne McGuire's and Karla Milosevich's histories and friendship, while Persona narrates an intense relationship between two women characters. In Persona, the muted actress (Ulmann) and her nurse (Andersson) live in a hospital and then in a remote location. Centered upon the characters' lives, McGuire and Milosevich reenact characteristic scenes. Scenes from  Persona are superimposed over video of the two reenacting "the actress" and "the nurse". (At Stephen Wolf Fine Arts, scenes were projected large on the wall with simultaneous frames.) Sinne Spegel appealed to me as a reconstruction of cinematic narrative and spectatorship; suggesting meaning about women, beauty, the face, aging…and, like Bergman's classic, uses narratives of self/identity.
MH:  Bergman enjoyed long takes of women's faces. How are your earlier performance videos related to Sinne Spegel?
AM: Our personal video art is very much from the school of performance art and is also character-driven. We both already experimented with pointing the camera at ourselves, so, it was very natural for us to gravitate towards working with cinema. I remembered Persona and how Bergman joins the faces of Ulmann and Andersson and how beautifully they lined up. We agreed: "the mirror, the split face, that's it. That's what we want to do."
KM: Inspired by Jay DeFeo, we wanted to work big.
MH: When Ulmann is shooting film superimposed with your images it resonated so much with the history of women in film. Talk about how your lives mesh with each other and with Persona. How is it autobiography?
KM: We met while studying at the San Francisco Art Institute, we were in the Performance/Video department. As kids, we were both nicknamed "Sleestak" from Land of the Lost. There are a lot of other things. It was Anne's stroke of brilliance to see the film as a vehicle for what we were doing, a way to work together.
AM:  Persona acts as a doubling device for our own twinned selves. Though Karla and I are quite different in looks, our backgrounds and life experiences are magically similar. We embed ourselves in the film as a way to tap into our psychological coupling. The two women in the film look so much alike and become so close. There's that moment when Bibi Andersson bares her soul and they almost become each other.
MH:  Can you elaborate on process? How long did the piece take from start to finish? What is your take on "drama"?
AM:  It took about one year to complete. We had meetings to discuss ideas and Karla suggested using note cards. So, we put the symbols from our combined pasts on the note cards as visuals to get the ball rolling. Once we decided on Persona, things started moving more quickly. We studied the film and scheduled the video shoot.  Then we worked with our editor to come up with the look of it. The installation took about one week with the final decisions being made a day or two before the show opened.  Seeing it projected large was very confirming. We could see it; the film is a place where we could rest our psyches. It felt peaceful to me, to exist in a place that was already manufactured visually, physically, and intellectually. The characters in the film become intimately entwined. Bergman, and the whole film crew had already created "drama" so we did not have to make it.  We just came along and hung our visages on what was already there. The characters were so much alike, so similar — ultimately they become one. So, the film was a starting place, and for our purposes we chose something visually stirring, not completely dependent on words. Of course, it's a Swedish film, and we realize the language difference might mitigate our intent, especially for those who do not know Persona or don't speak Swedish. But it also had the effect of creating an elegant barrier of mystery. We don't want to give a full translation. It's an investigation, as most art is. And, like the characters in the film, we wanted to overlap and become one, and so in turn we restaged exact scenes and superimposed ourselves into the mise en scene to become one with the film.
MH: There are little gestures and details in the video reenactment of scenes. (Laughter) What was the particular focus?
KM: To lightly touch the narrative. Our work together is a bit of …. "dramedy". (Laughter)
MH: What are some of your symbols?
AM: There is the rock.
KM: Yes, the rock.
AM: We considered projecting ourselves into a rock, but did not want to be trapped there. And, "rock" is music, too. Like "Classic Rock", the title of our first collaborative work.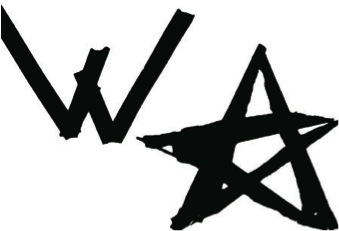 KM: "Sinne Spegel" came from our continued interest in rocks and we also wanted to work with mirrors.
MH: Some critics talk about Persona as being "cinema within cinema", cinema reflecting cinema.
KM: We made an infinity video sculpture for the installation at Steven Wolf, our Majic Box. A scene within a scene within a scene within a scene. The video we did for that has a more interior look, we float in a more subconscious space. Now, we want to do a new performance piece, and it involves mirrors too. We are looking for a very specific result, in a location – like a proper time-based "happening". Did anyone in your family believe in miracles?
AM: Yes, angels.
KM: Parallel universes. (Laughter)
MH: What about inspirations and influences?
KM: Cindy Sherman for sure. Andy Warhol, Gena Rowlands, George Kuchar. Thrift store shopping in the Mission, and record covers. (Smile)
AM: Old television, variety shows… I am much less influenced by "art" as by popular culture like Judy Garland, Sonny and Cher. We played with "seriousness" with Bergman using camp. When I learned more about artists and what they did, they started to influence me, too. It was partly Steffen Frech's words who advised us on the piece and he edited  "Classic Rock". We used mannequins then. We worked with Chris Wisniewski on "Sinne Spegel," he filmed and edited.
KM: They're both great. We created the sound track using some dialogue and audio from the film's soundtrack and we made some of our own.
AM:  I used a ceramic funnel like a bell.
KM:  I played a xylophone and a Roland and Anne played her penny whistle too. We recorded at Wobbly's studio in the Mission. Anne got me to speak fake Swedish. When we film together, we like to use this old 1970s studio camera that Anne has.
AM: You plug into the back with a BNC. We did all of Classic Rock and some scenes for "Sinne Spegel" with that camera. It has a nice black and white image quality.
MH: How did you choose who would play whom? Did you use a script?
AM: It was the hair, long hair and short hair. Karla had short hair so she played the nurse and I got to be Liv Ulmann. Liv's hair is up in the beginning. There is a shot in the film which I knew Karla could do… standing against a wall with sunglasses. Karla is forthcoming and talkative. I'm more private and Ulmann is mute all the way through!
KM: We worked with a shot list, recreating certain scenes. Some things just happened. We had this vest  that zipped up over the face, so we used it.
AM: And a striped dress. We figured out what we wanted to do with the costumes that we found.
KM: We had planned to film on this mirror wall at night but when we projected onto it, nothing happened. It didn't work. We had this space, equipment, and a cameraman. So we just used the mirror anyway and made things up. And then it became interesting.
AM: You let the circumstances push you.
__________
Karla Milosevich is a video and music artist raised in Texas, living and working in San Francisco. Along with friends, Milosevich runs Right Window gallery at 992 Valencia, with exhibits that change monthly and are designed to be seen from the sidewalk.
Anne McGuire writes, paints, and is half of  the long running musical act (with Wobbly) the Freddy McGuire Show.  She lives in San Francisco and her videos are distributed by Video Data Bank in Chicago and Lux in London.
http://www.vdb.org/artists/anne-mcguire
Molly Hankwitz
 is a media artist, editor and curator focusing on feminist womens' media, networked cultures, and emerging technologies. She is an Associate Editor of 
Water Views: Caring and Daring
,  an e-book available for download or by individual chapter from 
http://blog.water-wheel.net
 in March, 2015 and Editor of first Bad Subjects (
bad.eserver.org
) of 2015 with Tamara Watkins, Issue 87. Hankwitz' has contributed films. media, and presentations to exhibitions and festivals on several continents. She lives in San Francisco.
________________________________
NOTES:
More images in this folder:
https://drive.google.com/?tab=mo&authuser=0#folders/0B_67PnEuyLO4eDJKZXplSTNMRE0
More videos llinks: 
Karla
My Past Life, 1994
Star Exercise, 1998

Texan With Her Eyes Closed, 2011
Anne
2011, by Torsten Kretchzmar and produced by GUMMI international and Chris Wisniewski.
Words and music by Wobbly and Anne McGuire.
Related Filmography
Anne McGuire
"Joe DiMaggio," color video, 1991
"I Am Crazy and You Are Not Wrong," b/w video, 1997
"Music Again," color video and live performance with Wobbly, 2012
Karla Milosevich
"Misty Summers",1992
"Blue Lady", 1993
"In my past life", 1993