by Molly Hankwitz
The history of artistic life, as it turns out, slips through the hands of those who do not actively record it. Sometimes, after looking at electronic media all day, a book, as opposed to a network or a website, is the most comforting, concrete form. Radical Light, the book on Bay Area experimental film and community, published here with Kathy Gerritz and Steve Anker and others, a decade ago, reflects the multiple experimental film scenes and diversity of approaches and makers for which we are known. Such publications are explicit objects, useful, physical, deep. They are designed and edited to concretize the lived social experience of artmaking, first by collecting the subject matter into one space, and then, because of the multiple relationships involved, as a "cultural geography".
Now I bump up against notions of "archive", which long ago perplexed me when ideas of collecting in the margins were popular. It is the curator's job, or author's or editor's, to plumb for a sapphire of ideas with which to shape an archive. Ultimately, representation in the document of "social experience" — is what I decided to highlight in the two books and three journals I review below. This allegiance to social experience is the common thread that ties together the three publications. All shine in the department of social experience. This documentary aspect of each makes them unique and interesting.
John Porter's CineScenes:Documentary Portraits of Alternative Film Scenes, Toronto and Beyond, 1978-2015, (ed. by Clint Enns) is a compendium of filmmaker/photographer Porter's photos of Toronto's experimental film scene. Porter, who spent the last several decades (and who is still doing this) following Toronto's experimental film scene with his camera, captures the exhibitions, traffic, and enthusiasm for experimental film– the migration of artists, and the sharing of ideas. Devotion to film is delightfully expressed in Porter's black and white photos. Some pictures have aesthetic characteristics of large family portraits with relatives three-tiers deep, or graduation pictures where an entire class is asked to sit en masse for a brief moment in time. There are single portraits, too. (I should mention lovely ones of Craig Baldwin, Steve Anker, the late George Kuchar and Greta Snider). Here is a photographer so close to his subject matter that he is unusually capable at capturing the life in a living scene.  So emotionally connected is Porter, one can say, to the community he documents, that his eye is perfectly scaled to express this. He manages to capture the quality of familial exchange so intimately.
Experimental film and bringing audiences together over micro cinema is a social act flying in the face of mainstream presumptions about roles and how-to-do-film. Porter's photos show a broad network of faces and persons, places and equipment, a small, personal social scale of makers, all rapt and engaged. The shots, many posed, appear as if responding to the comment: "Look this way, please" as artists are shown in small groupings with their films and their equipment, or standing together, looking forward. Enns, who edited, and a friend of Porter's, amplifies these expressions of personal cultural exchange through inclusion of several excellent essays from Scott Macdonald, Nicole Gingras, Tess Takahashi, Dot Tuer, and his own introduction.
Moving right along, our own Craig Baldwin programmed BANKSY DOES NEW YORK + HOWZE's STENCIL NATION at Other Cinema last April inviting curator/collector/author Russell Howze (stencilartarchive.org) and possibly the world's leading expert on stencil art, as feature speaker to present a slideshow on his newly published book, Stencil Art: Graffiti, Community, and Art, (Manic D Press). I have always loved and admired stencil art and the work of ground-breaking, legendary stencil king, Banksy, so I bought a copy of the book, which, like the topic of his slide-show, articulates local battles around stencil art as "vandalism" and the Art world, as well as the flagrant imitations of Banksy, and other ongoing stencil-image-dialogues and tagging-competitions in this art form. As a full-color "catalogue", the book includes an essay by 'Frisco's own Chris Carlsson and a section on celebrated Mission stencil artist and painter, Scott Williams, a chronology, as well as the work of dozens of other makers, stencil-friendly galleries, stencil-friendly exhibitions and gatherings. Howze, who "collects" stencils by traveling and photography, also writes on the cities where stencil scenes are most happening. The book, to my pleasure, captures not only the varied and lively parameters of stencil art as a street "phenomenon", but calculates its rise as a form within artistic dialogues and as political art.
Finally, there is this great journal– and I am most grateful to have these so long to look at – (Thank you, Craig!) — in two soft-bound issues: Found Footage Magazine, Issue # 1 and 2, October 2015 and May 2016, respectively. (www.foundfootagemagazine.org) This new, semi-annual film studies journal is more than worth mentioning to OtherZine readers as I know all of you are enamored of, and steeped in, the delights of found footage yourselves! They have only published two issues thus far, and are  open to new ideas. Attention: This publication requires lengthy interrogation.
Published in two languages, Spanish and English, FFM fills:
…a void created by the fact that there has been up to this time little if any forum for the collection and dissemination of information, critical thinking and discussion of found footage cinema including all its manifestations.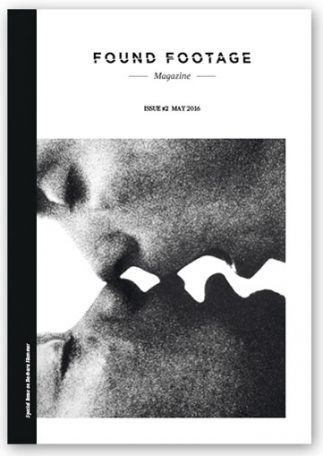 A fine effort, laden with researched essays, filmmaker interviews, critical, theoretical pieces, and pictures—Found Footage Magazine is for the film possessed! Partake of peaceful powers within a culture of exchange across borders–openings in the borders of the mind —new ideas, places, filmmakers, beyond our US "backyard". The better to fight the good fight against monoculture is  the free exchange and migration of ideas.
---
Image credits:
Conjuring book from Early Visual Media.
Map for Toronto film lovers, posted to Blogto by Audre Jax.
Stencil art photo by Molly Hankwitz, 2016.
–for J.O. in his new life.